How to make your Instagram account shoppable
with Artigram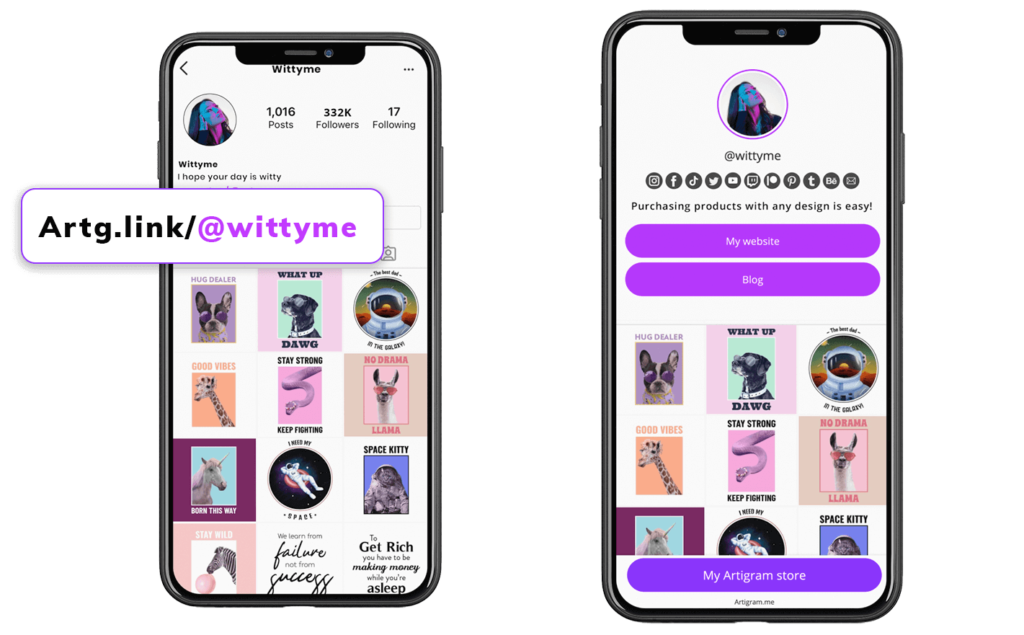 Subscribe to our newsletter
You publish great content on your Instagram account, and people love it! It can be an inspiring photo you shared, an artistic illustration you created, or a cool meme.
When people enjoy your work online, they like and share it; it resonates with how they feel, or it inspires them to dream and achieve.
How great would it be if you could help them express their inspiration in the real world too, and be in greater harmony with themselves?
To understand how to use Artigram's capability in Instagram, keep in mind that Instagram doesn't allow links in your account, therefore we provide you with a variety of products sales mockups to increase your followers awareness that your photos are available for purchase on products, do as follows:
 Upload your image to Artigram before you post it on Instagram, and get the link from Artigram for the store with products of that image.
Publish the same image on Instagram.
 On the image's slider on Instagram, upload to each photo additional slide image from your Artigram ad's center
 Alternatively, you can upgrade your Instagram account to business (pay per click to Instagram).
In addition to the above, Instagram does allow having one link only in your bio page. Therefore, we strongly advise you to add your Artigram account link to your bio on Instagram, which will make life much easier for people to find your Artigram gallery.